Cognizant Off Campus Drive 2022
Cognizant Off Campus Drive 2022: Cognizant is looking to hire Programmer Analyst Trainees through an off-campus recruitment drive in Chennai, Tamil Nadu. Candidates with a BE or B.Tech degree are eligible to apply for this position.Eligible individuals are encouraged to apply. Those who meet the qualifications and are interested should apply online. You can use this recruiting if you truly want to establish a career with Cognizant.
We have included the Eligibility Criteria, Selection Process, Required Skills, Documents Required for CTS Off Campus Drive 2022, and the Registration Process for the Cognizant Off Campus 2022 in the Below is a section with some information for the candidates. As a result, applicants who are unfamiliar with this material can quickly examine the contents in this article. Aspirants can find the whole job description on Cognizant's official website, www.cognizant.com.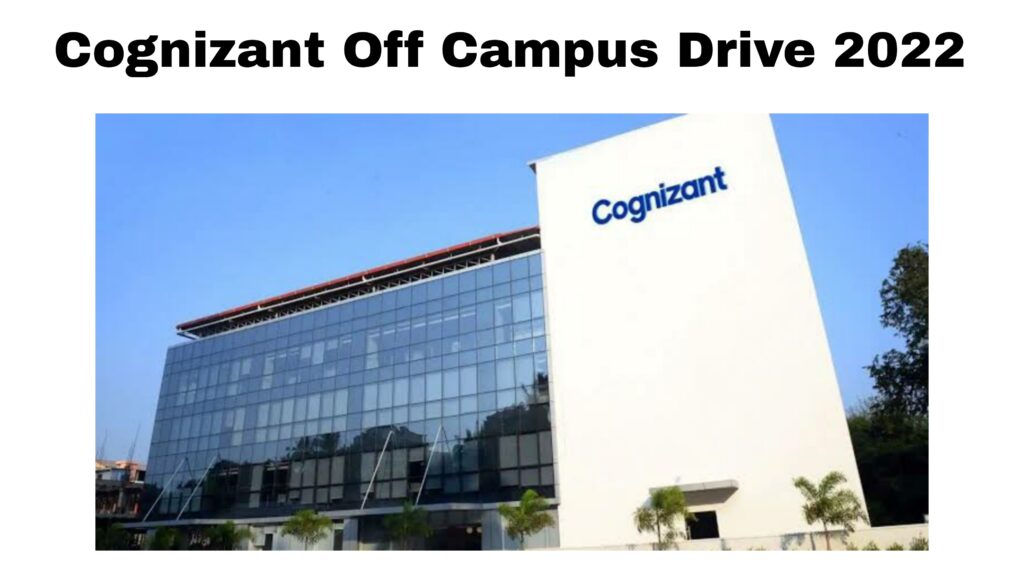 Organization Name: Cognizant
Job Category: Private Jobs
Job Role: Programmer Analyst Trainee
Place of Posting: Chennai , Tamil Nadu
Apply Mode: Online
Salary: As per norms
Website: https://careers.cognizant.com/
Description For Cognizant Off Campus Drive 2022:
As needed, offer periodic task level updates.
Assisting with the creation of documentation for client-specific apps, procedures, and workflows.
Application-specific errors are created.
Participate in weekly and daily standup calls.
Assist with the development of weekly and monthly client reports.
Obtaining information on the project's quality processes and practises from various sources.
Going over project-specific papers and boot camps to learn about client application suites technological stacks utilised in the client environment, as well as client-specific processes and tools (like Quality Center JIRA).
To obtain competency in project level knowledge, attend any knowledge transition sessions held within the project.
Obtaining domain, technical, and project management training and certifications.
Job Qualification and Skills:
Spring Boot
MSSQL
Java
Documents to Cognizant Off Campus Drive 2022:
You should bring a copy of your most recent resume with you to the interview.
Three passport-size photographs as well as an Aadhar card (original and photocopy) are required.
Any government-issued ID proof is required, such as a PAN, voter ID, or passport.
All necessary educational certificates, as well as xerox copies.
How to apply :
Candidates that meet the requirements should apply online using the Apply Link ( Link given bellow).
This link open a new browser tab.
Look for the apply button on this page after reading the previous page thoroughly.
Fill in all of your academic credentials, work experience, and other necessary details.
Please post your curriculum vitae.
Double-check the information before submitting.
If you are chosen for an interview, you will be notified via email or phone call.
About cognizant :
Cognizant is a large professional services firm that assists clients in reorganising their business, operating, and technological models for the digital era. Our industry-focused consultative approach assists customers in imagining, building, and running more innovative and efficient businesses. Cognizant, headquartered in the United States, is ranked 185 on the Fortune 500 and is consistently ranked as one of the world's most admired corporations. Learn how Cognizant can help your company become a digital leader.
Apply Mode: Online
REFER LINK: https://careers.cognizant.com/global/en/job/00041721023/Programmer-Analyst-Trainee
Cognizant Off Campus Drive 2022 – FAQ
How can I apply for the Cognizant Off Campus Drive in 2022?
Candidates must visit the official website at www.cognizant.com to apply for the Cognizant Off Campus Drive.
What is the selection process for Cognizant's off-campus positions?
The process includes an online written test, a group discussion, a technical interview, and an HR interview.
Is there a pay cap for this position?
The "Official Notification" makes no mention of the salary cap. Normatively
What level of experience is required to apply for this position?
This post is open to individuals who are fresh out of college. Refer to the official notification for more information on the experience and skills required for this position.